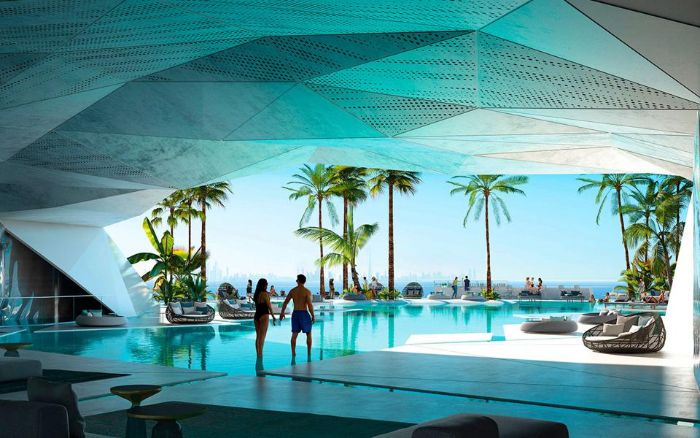 Trakhees Guidelines on Swimming Pool Approvals in Dubai
Dubai Approvals
September 16, 2020
Thinking about installing a swimming pool within your property under Trakhees jurisdiction? Here's a guideline of what's included with the swimming pool approval Dubai process, which owners, consultants, and contractors need to follow. Swimming pool designs should always fit its purpose, economical, and easy to maintain while providing an enhanced lifestyle for the owners.

Trakhees 2021
Department of Planning and Development - Trakhees aims to fulfill its Dubai Strategic Plan 2021 vision, which is to keep pace with the escalating development in the sustainable economic development of the emirate and support the comprehensive development of Ports, Customs and Free Zone Corporation's overall performance.​​ The Department will provide adequate responsibility for supporting high-quality strategic plans addressing with latest updates in the global and regional innovations. Trakhees will dispense stimulating creativity and innovation with the latest smart applications to improve the quality of services provided, to please and satisfy the public, to enhance Dubai's competitiveness, and support its ability in trade and investment, and to reach the position No. 1 globally in all fields.
Swimming Pool Approval Dubai Guidelines by Trakhees
Swimming Pools in Dubai have become synonymous and trendy with world-class quality with the use of the latest technologies and equipment. High quality and cost-effective pools with an unmatched level of care and attention along with guaranteed service are all available and offered by the swimming pool contractors and the top engineering consultants in Dubai. Whether for family use, fitness, or leisure activity, exceptional design swimming pools provide an extraordinary experience. The swimming pool installation process includes 6 steps, which are Assessment, Planning, Design, Engineering, Approvals, Construction. Below are the guidelines to acquire Swimming Pool Approval under Trakhees.
Purpose
In this initial stage of the Building Permit approval, a document that outlines the procedure to acquire Concept Design NOC is required to ensure that the Architectural drawings are set according to the minimum building design requirements specified in Building Regulations and Design Guidelines‐ Architecture, International Codes and relevant Trakhees‐CED Codes & Regulations prior proceeding for the building permit submission.
Scope
All Clients or Business Entities operating within the jurisdiction area of Trakhees.
Responsibility
The reviewing of the submitted drawings in accordance with Trakhees Codes, Regulations, and relevant codes will be handled but Trakhees‐CED Architect Engineers, in regards to the Client's Engineering consultants being fully responsible for the design, stressing on the accuracy, stability, and safety of the design and drawings.
References
Building Regulation & Design Guidelines‐Architecture
Regulation & Design Provision for People with Disability (PWD)
International Codes and relevant Trakhees‐CED Codes
DCR related to B.U
Definitions
TKS‐Trakhees
BP‐ Building Permit
CED‐Civil Engineering Division
EHS‐Environment Health & Safety Division
NOC‐ No objection Certificate
Arch.sec‐ Architectural Section
Procedure
The Client's Engineering Consultant must register the project in the e‐permit portal to acquire Project ID prior to the submission of concept design. If failed to do so, the TKS‐CED Help Desk shall reject the submission.
Front desk registration & acknowledgment process
Distribution of Documentation to Respective Sections
Feedback & Compile Summary
Sign and save drawing in the server & Prepare Concept Design NOC
Notify Consultant
Issuance of Concept design NOC
Revised submission
Building Permit Submission
3 Types of Submission for Concept Design
New Concept Design
Revised Concept Design
Revalidation of Concept Design & Amendment of Concept Design NOC
For all submission types, TKS‐CED is committed to completing the review process within 5-10 working days.
Delays can occur due to the following:
Missing drawings.
Details clarification
Internal department clarification
Special approval from higher management.

Record
There is no Record description Retention Time

Dubai Approvals Team is dedicated to helping every client all throughout, from the Swimming Pool Approval Dubai initial stage until the completion of the project. Contact us for more details.
---