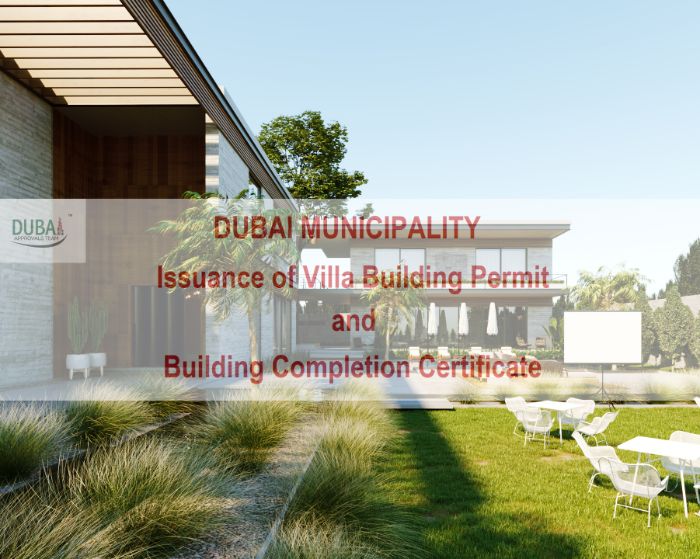 DM Issuance of Villa Building Permit and Completion Certificate
Dubai Approvals
May 27, 2021
The building of residences such as villas in Dubai has been consistently in demand and progressing. Choosing between different villa options according to the occupant's needs and preferences is a luxury to everyone with the variety of properties and communities found in perfect locations all over the city. Dubai Municipality approval sets requirements and procedures for issuance of building permit and building completion certificate for every type of building and structure, submission of soil test results, technical inspections of under-construction sites, and topographic maps of industrial areas.
Adaptable Villas in Dubai
A ravishing city like Dubai has so much to offer. The best shopping malls, the world's tallest and modern buildings, high-end hotels and resorts, leisures and mouth-watering foods, diversified culture, adaptable villas in Dubai, and many more city highlights will surely serve whatever lifestyle you prefer. If you are looking for the next perfect property to own in Dubai, there are various communities in the city offers shopping center, health facilities, gyms, and eclectic restaurants and cafés. These villa communities offer empty plots and built residential structures ready for occupancy in numerous safe and perfect locations with lush greenery or even the seaside. A villa may be the first worthy investment you will have in the city.
Procedure of Issuing Villa Building Permit & Building Completion Certificate from DM
The option of living in tranquil villa communities with safe and secured structures is very important. Dubai Municipality approval services assure quality standards and approved specifications that secure the safety of buildings and structures including villas in Dubai. The Dubai Municipality's Building Control and Building Permits Departments have rendered a set of procedures and steps for the issuance of villa building permits and building completion certificates for residential and other building structures.
Request To Obtain Building Permit
Engineering Consultants can submit applications through Dubai BPS online portal. The applicant must attach all required drawings, documents and fill in building card information as well as pay permit fees. Subsequently, the applications are received by the Governmental Authorities relevant department through a unified Dubai BPS window to review them and upload required NOC through Dubai BPS while DM issues the Building Permit and stamps all drawings. The contractor or Engineering consultant can print them online.
Request for Structural
All application types for Structural Inspection, the Shoring Works & Foundations and Cast concrete slabs or Steel structures, can be submitted by the Engineering consultant and the contractor online and will be received through Dubai BPS. The inspection will be done on foundations only by the Building Control Department and Inspection and will be conducted through the Unified Inspection Committee which includes Dubai Municipality concerned departments such as Building Control Department and Survey Department.
Request for Final Inspection for Completion & Services Connection
The contractor and the engineering consultant must notify the Dubai Municipality that the work is completed on-site through Dubai BPS. All Completion & Services Connection applications are received online through Dubai BPS. The inspection on the new building will be conducted through a combined working team between all relevant government authorities and departments, such as the Building Control Department, Survey Department, Etisalat & Du, while the task for the Dubai Civil Defence is generated if only required. Moreover, a completion certificate will be issued and necessary connections will be made. The inspection on the decors, adjustments, or additional work will be done through the DM Building Control Department only, and the task for Dubai Civil Defence is generated if only required.
Dubai Approvals Team offers assistance on the document completion and submission of requirements for the issuance of the villa building permit and building completion certificate under the Dubai Municipality approval services. We assure a smooth acquisition process for residential or villa projects, industrial buildings, multistorey buildings, and public buildings in Dubai.
---